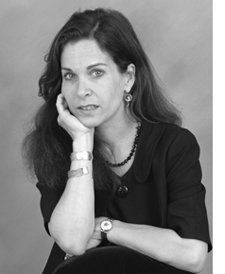 Nicole Cooley grew up in New Orleans, Louisiana. Her most recent book is Breach, a collection of poems about Hurricane Katrina and the Gulf Coast, published by Louisiana State University Press in 2010.
In November 2010, her fourth book of poems, Milk Dress, co-winner of the Kinereth Gensler Award, will appear with Alice James Books in November. Her multi-media artist's book, collaboration with book artist Maureen Cummins, titled Salem Lessons will be published in Fall 2010. She has published two other books of poems and a novel.
She received her BA from Brown University, her MFA from the Iowa Writers' Workshop and her PhD in American Literature and Women's Studies from Emory University. Her awards include The Walt Whitman Award from the Academy of American Poets for her first book, Resurrection, a Discovery/The Nation Award, an NEA, a Creative Artists fellowship from The American Antiquarian Society, and the Emily Dickinson Award from the Poetry Society of America.
Her scholarly work includes editing the "Mother" issue of the journal Women's Studies Quarterly as well as essays in American Poet, Women's Studies: An Interdisciplinary Journal, The American Poetry Review, Pedagogy: Critical Approaches to Teaching Literature, Language, Composition and Culture as well as in the edited collections Devouring Institutions: The Life Work of Kathy Acker and We Who Love to Be Astonished: Innovative Women Writers and Performance Artists. Her non-fiction essays appear in Toddler, The Best of Literary Mama, and Mama PhD; Women Write about Motherhood and Academic Life.
She is currently completing a new collection of poems, Artificial Curiosities and a cross genre project, The Flood Notebooks. She is a Professor of English and Creative Writing at Queens College-City University of New York where she directs the new MFA program in Creative Writing and Literary Translation.

Contact: Nicole.Cooley@qc.cuny.edu


bio | books | on-line work | readings & events
©2014 Nicole Cooley | All Rights Reserved